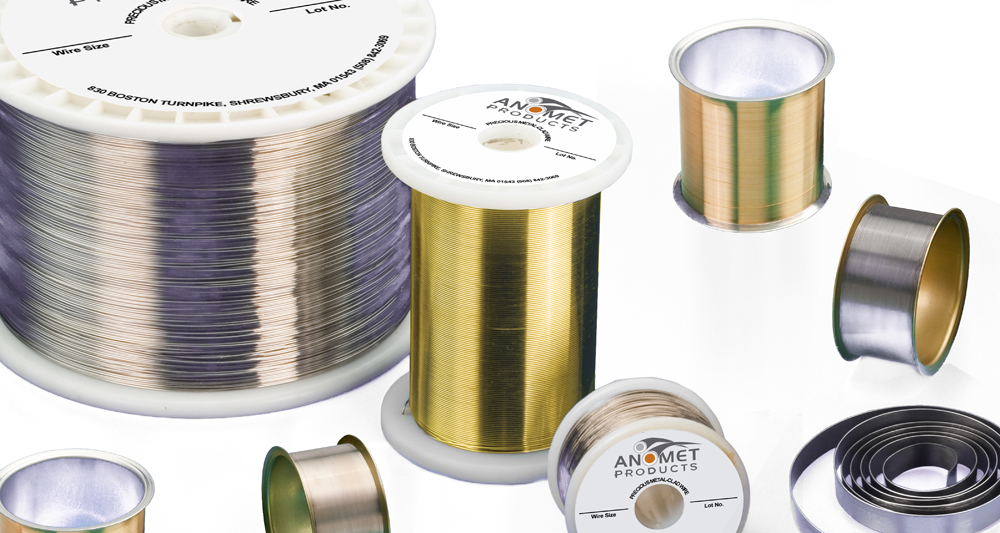 Precious metal-clad wire and ribbon are a cost effective alternative to solid wire while offering greater ductility and formabilty than filled or plated wire. Anomet's clad-wire features a complete metallurgical bond between layers making it the wire of choice for many aerospace, connector, medical device manufacturers when it comes to high reliability and high quality. Anomet's precious metal-clad wire is manufactured using various heat, pressure and reduction techniques. Draw on Anomet's 35 years of clad-wire experience to engineer the perfect solution to your wire challenge.
Triple-Clad Metal Wire
To meet specific requirements, Anomet's clad-metal wire can include platinum for oxidation-corrosion resistance and biocompatibility, gold for contact resistance, and palladium or silver.  Each alloy can be clad to core materials suchs as copper, niobium, molbdenum, stainless steel, tantalum, and titanium. 
Click here for a list of other typical metals and alloys.
TRIPLE-CLAD METAL WIRE FEATURING
High Strength Alloys
Conductive Alloys
Biocompatible Alloys
Radiopaque Alloys
Corrosion Resistance
Wear Resistance
Contact Resistance
Typical Metals and Alloys
Anomet's Precious Metal Clad Wire can be designed using any combination of the metals and alloys below.  Although these are the typical alloys our customers are using today, you can also specifiy your own.
| | |
| --- | --- |
| CLADDING | CORE |
| Gold (Au) | 316 LVM |
| Palladium (Pd) | MP35N (R) |
| Platinum (Pt) | Molybdenum (Mo) |
| Platinum Iridium (Pt/Ir) | Niobium (Nb) |
| Silver (Ag) | Nitinol |
| Tantalum (Ta) | Tantalum (Ta) |
| Customer Specified Alloy | Tantalum Tungsten (Ta/W) |
|   | Titanium (Ti) |
|   | Customer Specified Alloy |
Typical Forms Available
| | |
| --- | --- |
| Wire | .002" (.05mm) OD - .125" (3.2mm) OD |
| Ribbon | Up to 1.00" (25mm ) Wide |
| Cladding Layers* | Bi-Clad (2 Layers), Tri-Clad (3 layers) |
| Typical Cladding Thickness** | 2% or more |
      *Unlimited Number of Layers Available
      **Custom Thicknesses Available